Quality Bytes mailXpress introduces a leading-edge software package that combines high-performance security with surprising ease of use. It allows its administrator both a straight-forward approach and a highly adaptable system at the same time. It also introduces a user-level graphical user interface that allows end-users to handle their own mail blocking preferences, thus relieving the administrator from chasing mail messages every day and improving the overall service to its end-users.
הגנה מפני וירוסים וזיהוי ספאם
אבטחת הדואר האלקטרוני מאתרת וירוסים, תולעים, סוסים טרויאנים והתקפות, בנוסף מאתרת ספאם עם הכוח המשולב של מנועי הסריקה
ארכיון דוא'ל אוטומטי
ארכיון חכם השומר את כלל ההודעות היוצאות והנכנסות, משתמשת בשיטת אחסון חסכונית המייעלת את הביצועים
מנגנון הטמעת מסרים ומודעות
המערכת מאפשרת להוסיף מודעות/באנרים מכל סוג תמונה, טקסטים או קישורים להודעות היוצאות
ממשק פשוט לחווית המשתמש
מקל על המנהל בביצוע משימות נפוצות, כך שמשתמשיםיהנו מיכולות המערכת בפשטות ובמהירות
Mail Archive and Log
Keep all of your incoming and outgoing messages archived. Search messages by date, sender, recipient, extension (and many other attributes) with the highly indexed Mail Lookup tool. Messages can be recalled to the original recipient or to another mailbox (such as the administrator's)
Multiple AV Scan Engine Support
In addition to a bundled scan engine, Quality Bytes MailXpress supports multiple scan engines. It can use other, available Anti Virus products on the host to enhance virus detection. Once enabled, Quality Bytes MailXpress can find viruses, worms, trojan horses, phishing attacks and hoaxes with the combined power of multiple scan engines - all managed under one roof.
Easy to Use End User Interface
End-user interface relieves the administrator of some common tasks, such as releasing blocked messages, maintaining the black/white list, and seaching for a message. End-user interface comes in direct and indirect forms - while the web application is user-friendly and easy to use, users can benefit from the system's cababilities by clicking on simple links found in messages.
Adaptive Spam Filter
The spam filter incorporated into Quality Bytes MailXpress has multiple has multiple scan layers. The combined power of these scan layers creates a highly accrurate spam detection machanism. Users can help enhance the system's spam keywork database by reporting received messages as spam, so that future messages with the same keywords will have a higher spam probability score.
Automatic Archiver
Automatic Archiver compresses all compressable attachments in a message and delivers them in ZIP format. This helps save upstream bandwidth for outgoing messages, and adds an extra attachment security for incoming messages because it allows the user to define a password for the ZIP file. For incoming messages, this feature also reduces the storage required for the message on the mail server, thus helps imrove the server's performance.
This feature may be turned on or off as desired, and allows excluding messages per external address or extension type.
Ad (Banner) Insertion
Add promotional banners to your outbound messages. Quality Bytes MailXpress can modify your outbound HTML messages on the fly. Messages may include a promotional banner (in any image format understandble by the client), text and a link to a desired web site. The banner is readble on Microsoft Outlook or 100% compatiable.
Banners may be included per conditions.
Assign a different banner for each source domain (to distinguish one company from another). Or for specific senders (to distinguish departments in the company).

Change the banner language for per recipient group (for different countries)

Send a different ad for different recipients, each receiving a banner that they may find more attractive, or for a product they yould be interested of.

Special keywords in the message link help identify the actual sent message, recipient address or the subject, allowing data collection on the web site receiving the link.
MailXpress Network Positioning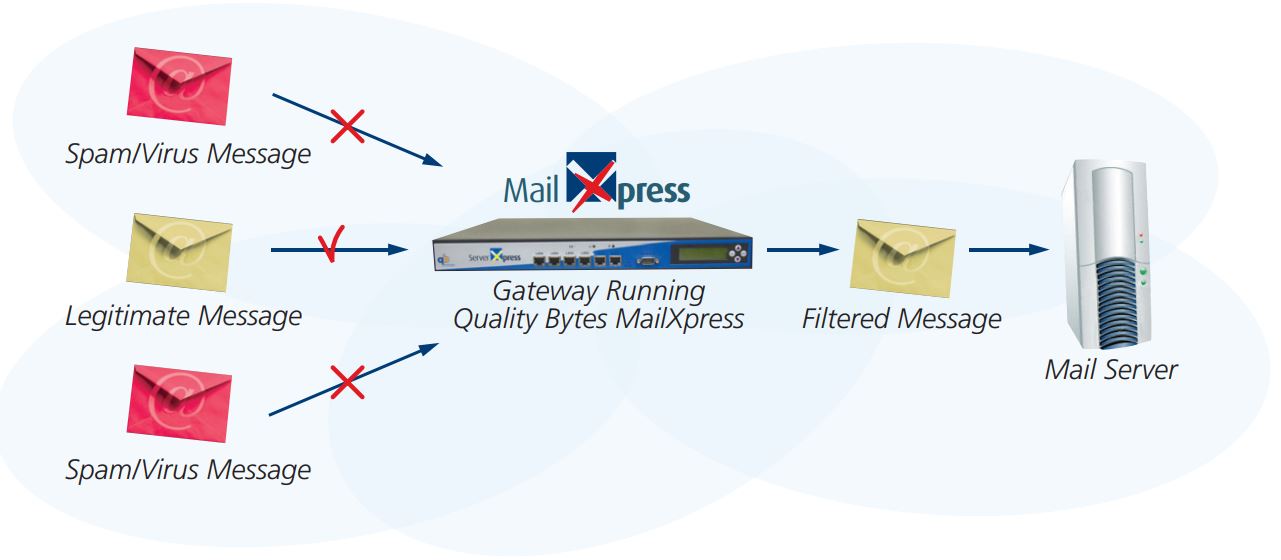 WE ARE YOUR NEXT PARTNER
FOR SECURING MAIL SYSTEM
CONTACT US